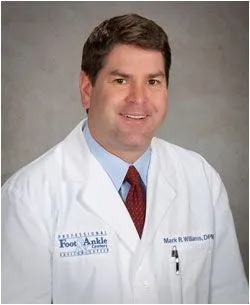 Mark Williams, DPM
Dr. Mark Williams was born in Detroit and raised in Madison Heights, Michigan. He earned a Bachelor of Science degree from The University of Michigan in Dearborn and then completed a four-year Doctorate of Podiatric Medicine (D.P.M.) degree at The Ohio College of Podiatric Medicine (Kent State University) in Cleveland, OH. As a freshman at OCPM he ranked #1 in his class and was awarded the Academic Half-Tuition Scholarship for this achievement. Dr. Williams was also awarded with the National Podiatric Medical Association Merit Scholarship before graduating in 1997.
Upon earning his Doctorate of Podiatric Medicine, Dr. Williams completed a comprehensive three-year foot and ankle surgical residency in Houston, Texas. Rotations in both medicine and surgical sub-specialties enhanced his foot and ankle training. During residency Dr. Williams was privileged to work among many notable attending physicians, including the developer of the Endoscopic Plantar Fasciotomy (EPF) and the Endoscopic Decompression of Intermetatarsal Neuroma (E.D.I.N.) procedures, the President of the American Podiatric Medical Association and the President of the American College of Foot & Ankle Surgeons. He received extensive training in reconstructive foot and ankle surgery and has a special interest in bunion surgery, sports medicine, heel pain, and treatment of the lower extremity complications associated with diabetes. During his final year of residency, Dr. Williams was appointed as Chief Resident where he supervised a team of fourteen other foot and ankle surgical residents.
Following residency in Houston, Dr. Williams returned home to Michigan and began private practice at Professional Foot & Ankle Centers, PC in Davison and Lapeer.
Dr. Williams is Board Certified in foot surgery by the American Board of Foot & Ankle Surgery and is a Fellow of the American College of Foot & Ankle Surgeons (ACFAS). He is also a member of the American Podiatric Medical Association and the Michigan Podiatric Medical Association.
Dr. Williams serves as a teaching physician for six podiatric surgical residents at Ascension Genesys Regional Medical Center. He has been awarded the Genesys Regional Medical Center Podiatric Clinicians Recognition award in 2006 and the Podiatric Clinician of the Year award in 2007, 2009 and 2012. Dr. Williams has been appointed to the Surgery Center at Health Park Medical Executive Committee since 2006 and is the Lower Extremity Medical Director at the McLaren Flint Wound Care & Hyperbaric Center. Dr. Williams has been affiliated with the McLaren Wound Care Center since 2003 where he is actively involved with diabetic wound care and limb salvage in collaboration with many other fine specialists.
Staff privileges for Dr. Williams include Ascension Genesys, McLaren- Flint, McLaren-Lapeer and Hurley Medical Centers. He is also affiliated with The Surgery Center at Health Park in Grand Blanc and the McLaren Surgery & Endoscopy Center in Flint.
Dr. Williams resides in Clarkston with his wife Therese and twin daughters. In his free time, he enjoys water sports, snow skiing, vintage car shows, and fishing with his girls.
Jessica Macsuga, DPM
Dr. Macsuga grew up in Goodrich, Michigan and graduated from the University of Michigan with a Bachelors of Art and Human Biology. She obtained her Doctor of Podiatric Medicine degree from Temple University's College of Podiatric Medicine and completed a 3 year surgical residency at the Detroit Medical Center where she was Chief Resident. Her training had a high focus on foot and ankle reconstruction, forefoot and rearfoot elective surgery, trauma, revisional surgery and diabetic limb salvage.
Dr. Macsuga is the current Assistant Director of the Podiatric Medicine and Surgery for the residency program at Ascension Genesys Hospital and is Forefoot and Rearfoot certified by the American Board of Foot and Ankle Surgery.
In her free time, Dr. Macsuga enjoys spending time with her husband and 3 wild boys, cooking, DIY projects and spending time in northern Michigan. She is a Michigan football enthusiast and is excited to be able to practice medicine so close to her home town.
---
Professional Foot & Ankle Team Members
Tina ~ Practice Manager / Medical Assistant

Therese ~ Team Leader
Trisha ~ Medical Assistant / Surgical Scheduler for Dr. Williams
Claire ~ Medical Assistant
Morgan ~ Medical Assistant
Sarah ~ EMR Scribe / Medical Assistant
Mallery ~ Medical Assistant / EMR Scribe
Gretchen ~ Front Desk Receptionist / Scheduling Specialist
Kim ~ Front Desk Receptionist / Scheduling Specialist
Deb ~ Front Desk Receptionist / Scheduling Specialist
Sue ~ Front Desk Receptionist / Scheduling Specialist
Sarah ~ Front Desk Receptionist / Scheduling Specialist
Ginny ~ Prior Authorization Specialist / Surgical Scheduler for Dr. Macsuga
Laurie ~ Insurance Billing Specialist
Penny ~ Insurance Billing Specialist
Kim ~ Insurance Billing Specialist
Carissa ~ Insurance Billing Specialist